Fragments of a Writing Life …
FICTION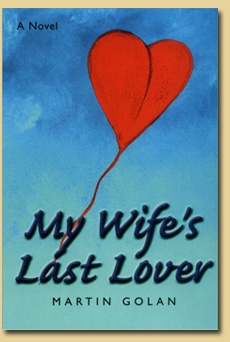 Martin Golan's novel My Wife's Last Lover, is the moving tale of the power struggle and longing for safety that converge in a modern-day marriage. It tells of a man who loves his wife so deeply it verges on obsession, yet walks out on her and their two small children because her beauty and success bring up his own feelings of inadequacy. With heartbreaking candor and bittersweet humor, Golan dramatizes how being a man today is different from what it once was in earlier generations.
         Read chapter 1 of My Wife's Last Lover
               See the popular book group guide 

Martin Golan's short story collection,
Where Things Are When You Lose Them, contains twelve stories that delve into the nature of loss, from the mundane, like misplacing your keys, to the heartbreaking, like losing your youthful dreams or the love of your life. As we tour this landscape of loss we find, in the end, a bit of redemption and a chance at peace. Loss, we discover, comes with being human, with any life lived fully and well.
Read the story collection's rave reviews
Read one of the stories in it
POETRY
"A Poem About Sex"
 answers the oft-asked question: what does reading poetry in public have in common with visiting a singles bar –(though it applies equally well to offering poems on a website such as this).
It's a poem that promises, once you get it alone back at your place, to "take off its words for you" because "it wants to become yours."
And if you dread applying for a job
, don't read Job Interview, a surreal take on that uncomfortable but usually necessary hurdle to landing a job:
His desk is nightmare huge
swimming through
the blueness of his room
His body shakes in robot-jerks
as his fingers rattle on your resume
He glances at your life …

Personal essays 
"Hello, my name is Martin and I'm a taxaholic" begins this tongue-in-cheek
 confession of a man who abandons the town he loves, and where he lived for 20 years and raised his family, because property taxes kept skyrocketing. It's a humorous — and pointed — send-up of the politics of the property tax system, in which local taxes are levied unequally by a bizarre patchwork quilt of towns.
Or read this satirical essay of struggling writer who
wins fame and fortune by creating a magazine that doesn't exist.
Now that New York Literary Review (formerly Etheria) has ceased publication,  I feel free to reveal the true story behind its life and death, a story that will surely astonish the legions of fans NYLR attracted in its brief but dazzling moment in the literary sun. When I was just another aspiring writer …. 
Reviews 
Read a few reviews of Martin Golan's work, like this  from the prestigious American Book Review:
It's easy to like the lilt in Martin Golan's writing: his word choices are crisp and his tone effervescent. The twelve stories in his collection Where Things Are When You Lose Them snap, crackle, and pop in their examination of modern travails ….